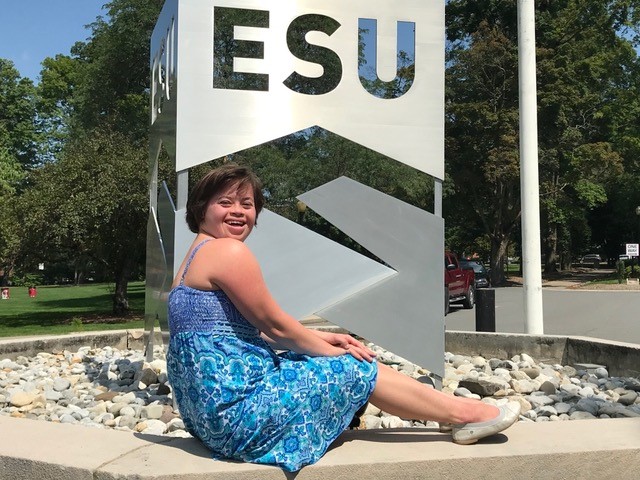 Meet Sara Davis, College Student At East Stroudsburg University!
October 11, 2018
MCDSIG Mom, Susan, Shares Their Family's Experience with College
My daughter, Sara, age 20, is in her first year at the Career, Independent Living and Learning Studies (CILLS) program at East Stroudsburg University, and LOVING it! I hardly ever hear from her via phone call or text…she is really happy in her new surroundings, and happy to be on her own at college. While I am ecstatic that she has adjusted well and doesn't need me, I am still a little sad that Sara doesn't call home more often, just to say hello. Of course we are thrilled that Sara is living away from home semi-independently in a safe environment, and has transitioned so well.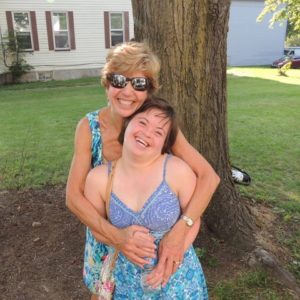 Sara lives in a house with two other girls in the program, and her House Manager, a graduate student at ESU who we jointly hired to manage our children's daily needs. The CILLS program recommended several students, and we interviewed them and chose our House Manager. The parents rented the off-campus 3-bedroom house on our own, and were happy to find a place very close to campus. It was classic college housing, so the parents got together over the summer and fixed the place up so it would be more like home for our girls. Sara and the House Manager have their own rooms and share a bath upstairs, and the other two girls share the largest bedroom and a bath downstairs.
The girls, not knowing each other before meeting as part of this program, seem to get along well. The House Manager is doing a fantastic job helping them to adjust and keep on task with their daily living skills as well as household chores, getting to class on time, and other routines. This is an integral part of the program, as the students learn to do chores, plus plan, shop for, and cook an evening meal on the weekends.
Sara's classes for her first semester were chosen by the college. She has five courses, three are specially designed for students in this program, and two courses are ESU courses that have general ed students in the class as well as students in the CILLS program. First semester, first year, the courses specific to the CILLS program are Daily Living, Health and Wellness and First Year Experience. These courses focus on components of successful living while away from home, including safety issues, maintaining good physical and mental health, and preparing students for studying and living in a college community. Additionally, a Person-Centered plan will be developed for Sara that will evolve over her 3 years in the program as her needs, interests and goals change. The general education classes Sara has this semester are Diversity of the Learner, and Fundamentals of Movement. Beginning next semester, Sara will be able to choose two of her courses to audit from the ESU course list. The CILLS specific courses will cover personal finances, career awareness, computers and technology, as she moves through the program. There are internships included as part of the 2nd and 3rd years of the program. In addition to Sara's House Manager, the CILLS program employs Peer Mentors. Peer Mentors supervise the students when they are not in class or in their house in the evening. They may assist the students with homework, work out with them at the rec center, sit with them at a football game, or take them bowling on the weekends.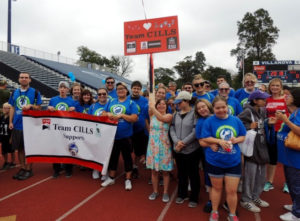 My overarching goal for Sara is to be as independent as possible. Initially, I thought that she would never be able to live on her own, because she has poor math skills and doesn't understand money management. I then realized that Sara doesn't have to be financially savvy to be able to live on her own. I can continue to monitor her expenditures on her debit card, while she lives in her own apartment. She can learn the skills needed to make a list, shop at the grocery store, and to cook simple meals in her own place. This summer Sara had a job bussing tables at a restaurant. I am teaching her how to use Uber for transportation. She can do this, eventually! College is a huge step in helping Sara to gain her independence!
To best prepare Sara for college, I began to examine every facet of her daily living experience. Personal hygiene is absolutely key and is the first thing that adolescents should be working on and eventually become fully independent. This was accomplished by Sara at about age 14. Then additional skills around the house, getting her own meals, cleaning up, putting dishes in the dishwasher after rinsing them, etc. Sara has been doing her own laundry since she was 15. She folds clothes beautifully! This summer I noticed that while Sara can fix her own breakfast of cheerios, she had difficulty opening a new box and pouring it without spilling it all over the place. I purchased a clear plastic storage container that makes it much easier for her to pour the cheerios without spilling and to get the right amount in her bowl. Sometimes small accommodations can make a big difference!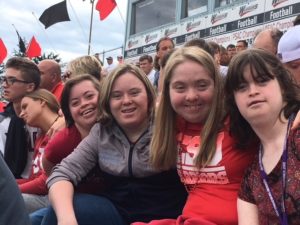 Of course, academics were key to enable Sara to get to this point. Sara was included throughout middle school and high school in social studies, science and electives, and was in Learning Support for reading, math and English. Her work was modified, and I often spent an hour or two each day helping Sara with her homework. In some cases I modified assignments for Sara, since I knew her learning style and vocabulary better than her teachers.
In Elementary school Sara was in a class that was mixed with children with IEPs and children who did not have IEPs. These were called Inclusion classes at the time, and were co-taught for major lessons with a special ed teacher and a general ed teacher teaching important units together, or in smaller groups.
Sara loved her inclusion classes the most, because they were the classes where she was with her friends. Sara is lucky to have some very special children in her life who are nondisabled peers and true friends. Most of the girls grew up in our neighborhood and have known Sara since kindergarten. We started hosting play dates and parties with these children when Sara was in kindergarten, and continued them through the years. The girls are looking forward to our annual Holiday cookie baking party in December when they all come home from college! Sara supported her friends by attending activities in which they participated in high school, such as vocal arts performances, high school plays and musicals, and marching band competitions. Sara was able to be a friend as well, accept them for who they are, regardless of what they are wearing or how many "likes" they have on Instagram. Their friendships are very special.
Sara participated in several activities in school and outside of school with nondisabled peers. These activities included taking a weekly dance class and participating on a summer swim team with all nondisabled peers. At her high school, they recently added Unified Sports. Sara participated in Unified Cheerleading, Unified Bocce and Unified Track and Field. These activities are really special as they allow children with and without disabilities to have fun, work toward a common goal, cheer each other on, and to learn from each other outside of the classroom.
What have been the keys to Sara's success, thus far? She is a hard-worker, and wants to please. She enjoys learning new things. Sara is a very honest, open and loving person, and she really enjoys being around people. Sara is socially motivated to participate in activities and learn new things. Since she has been around nondisabled peers her entire life, she has modeled their behavior, more easily assimilates into new environments, and exhibits age-appropriate behavior. She has an outgoing and fun-loving personality. Sara is her own best advocate – people want her to succeed because they enjoy being with her, and share in her accomplishments. Sara is a great joy, and I am so proud of her many accomplishments!