Sunday, March 21, 2021
Join us for a Zoom Party Celebration of World Down Syndrome Day (WDSD) with Rainbow Phil coming live to your home from Dublin, Ireland. Come sing, dance and ROCK YOUR COLORFUL SOCKS with our MCDSIG friends. This event is open to all of our families. RSVP by Friday, March 19.
We will open the Zoom at 9:00 a.m. to chat and Rainbow Phil will join promptly at 9:30 a.m. "Rainbow Phil" is an English/Irish kid's musician and entertainer. He is doing his "Down on the Farm" show with many kid classics!
Rainbow Phil will begin promptly at 9:30 a.m. and perform for a fun filled 45 minute session.
You can view some of Rainbow Phil's performances with the links below.
YouTube – RAINBOW PHIL'S SOCIAL ACCOUNTS
Facebook – RainbowMusicPhil
Please be sure to join between 9:00 a.m. and 9:30 a.m. to work out any technical issues. When you are on the Zoom meeting, please change your Zoom users name to your child(ren)'s name so that Phil can see your child's name.
If you have any questions, please feel free to contact me at [email protected].
Hope you and your family are able to join us to celebrate World Down Syndrome Day. Oh, and remember to ROCK YOUR COLORFUL SOCKS! We look for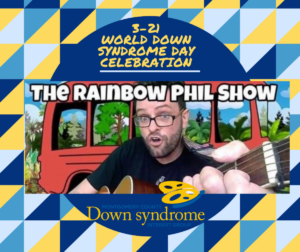 ward to seeing you on Saturday, March 21.
Sincerely,
Dan Szostek
Montgomery County Down Syndrome Interest Group
[email protected]