Friendships: Building a Good Life: Strategies for Families of Children with Disabilities and their Peers, Communities, and Schools
Thursday, October 25, 2018
Friendships: Building a Good Life: Strategies for Families of Children with Disabilities and their Peers, Communities, and Schools. Participants will receive a copy of this booklet. This will be an interactive session for participants to understand how they can make a difference in someone's life by facilitating natural opportunities for friendship building. Participants will review the design and organization of the booklet as well as reviewing and discussing the 3 guiding principles:
1. Everyone has a role to play in the development of Friendships
2. Friendships are important to ALL
3. Everyone benefits when we support friendship development for kids.
We will also identify possible barriers to friendship development.
Presenter: Diane Perry
Who Should Attend: This presentation is for families and youth.
Should you have any questions please call the PEAL Center at 1-866-950-1040 or email info@pealenter.org. We look forward to seeing you!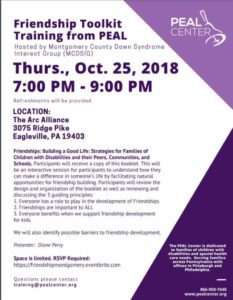 Location: ARC Alliance, 3075 Ridge Pike Eagleville, PA 19403
Register Now