MCDSIG 2021 Annual Report
March 2, 2022
It is with great pride that our Board presents our first-ever annual report highlighting all of the ways we brought together and supported our Village. We're grateful for your involvement in MCDSIG and for the generosity of our donors who help make it possible for us to live out our mission. We invite you to read about all the great things that happened in 2021 and how we aim to move MCDSIG forward in 2022!
How Can Presumed Competence Change the Education Game?
Reprinted from ThinkCollege.net with permission from author and MCDSIG parent, Lizanne Magarity Pando, M.Ed
The rise of virtual learning during the global pandemic has impacted learners of this generation in a variety of ways. Virtual learning brought classrooms into homes where parents could observe their child's educational process in ways they never had access to before. This sudden necessity and escalation of parent observation and involvement in their child's learning process had its advantages and disadvantages. In my own continued educational process, I was in the midst of taking special education graduate classes at Cabrini University. In my coursework, I learned about how teachers' perceived projections of what a student might learn in their class often dictated how the teacher would teach that student and what the outcomes might be for the student – for better or worse. Unexpectantly, I was living the rare experience as a parent, watching the evolution of diminished expectations of my daughter's abilities.
My daughter Jenna is a 21-year-old student with Down syndrome. During the pandemic, Jenna was winding down her high school learning experience. The situation necessitated that she learn virtually at our kitchen table. It was illuminating to overhear her teachers and aide during her classes. There was a new level of transparency about their pedagogical approach. It often included telling her how she was doing something wrong rather than supporting her lessons with adaptations and celebrating her accomplishments. Their investment in her learning outcomes was dismal. This practice continued in every class for months. Many teachers never even met with Jenna or only met with her once from March to May. Jenna was supposed to rely on the aide to be her predominant teacher. The other teachers just sent worksheets and assignments.
Presumably, this was her experience for years and we were only fully exposed to us because of the pandemic's demand for virtual learning. Our daughter developed low self-esteem about her learning abilities from this teaching approach. She would often "whisper" her answer thinking if it was not right she would be talked down to. It cast a shadow of doubt on our plans for her transition to higher education. What her high school was calling inclusion can be described by Kliewer (1998): because they (students with Down syndrome) are not truly welcome and do not truly belong, they (students with Down syndrome) are squatters in their own classroom. They are marginalized as second-class citizens.
Higher education options are 'newer and fewer' to students with Down syndrome. Though higher education has been accepting students with disabilities for 30 years, students with Down syndrome have only received the types of supports that made their entry to higher education possible and successful in the last 13 years. Jenna was accepted into East Stroudsburg University's Career Independent Living and Learning Studies program (CILLS) to begin her studies in the fall semester of 2020. This program was in its ninth year at the time of Jenna starting college. As it turned out, she began her university experience at the same kitchen table where she finished her high school classes, learning virtually. Professors from many different programs and subjects taught these college classes. Her orientation was thorough, and they supported her with non-disabled students (peer mentors) to assist her learning, note taking, homework support, and overall transition to higher education.
The difference in style from dismal to presumed competence was enlightening and refreshing. Jenna was encouraged to participate and share with the class. The teachers began by talking to her with respect and clarifying the expectations for their class. She received adequate support and adaptations. Teachers showed up and taught their classes on Zoom. Their approach of presumed competence changed the entire learning process.
Her first semester ended with a report due in her Academic Learning Success class. This report was a to be a PowerPoint Presentation on stress and how that can affect learning. Jenna added three points and one photo per slide. The presentation was eight slides and she was expected to share her screen and personally present. She did all the work herself. Jenna chose to wear a dress and blazer. She presented many great points on how stress in college can affect learning. She had moved from answering in 'whispers' to a confident, happy, fully informed and articulated presentation, which she then uploaded to Dropbox for her grade. Additionally, in her film class, she was required to interview someone that was in the video production business. She did an excellent job developing the questions she would ask and using Premier Pro to edit her video. Her teacher was pleased. She also ran Bingo nights on Zoom for classmates to enjoy for social hour. Whereas Jenna experienced doubts and low self-confidence about her learning in high school, her college 'Zoomed' classroom experiences ignited in her a fire for learning.
This was a transformational experience. This kind of transformation takes time, because to transform, you must learn to trust and build the bridge to a mutually beneficial relationship. It does not happen overnight. Years of being told you cannot learn takes a toll on your outlook. Presumed competence set Jenna and her journey to independence in a different direction.
So, how can we increase higher education learning outcomes for students with disabilities if high schools are consistently presuming low outcomes for students with intellectual disabilities? Are teachers getting support from their administrations? Do they participate in professional development about how to teach to gain better outcomes? Who is responsible for this gap and failure in the process: the teachers, those who educate and support them, or both? How can we change this process to enhance everyone's inclusion learning experience? The purpose of exposing students with intellectual disabilities to presumed competence is to provide them, for perhaps the first time in their lives, the expectation that they can learn after leaving high school and the opportunity to choose to learn. Due to high school's nature and structure, students with intellectual disabilities are seldom provided the chance to choose what they want to learn about, nor are they given guidance about how to access knowledge as adults (Grigal, 2010).
Disability does not mean deficit. We are leaving talented learners behind and failing them as a system and as full participants of society. How can we do better so more high schools prepare students who learn differently for a college experience?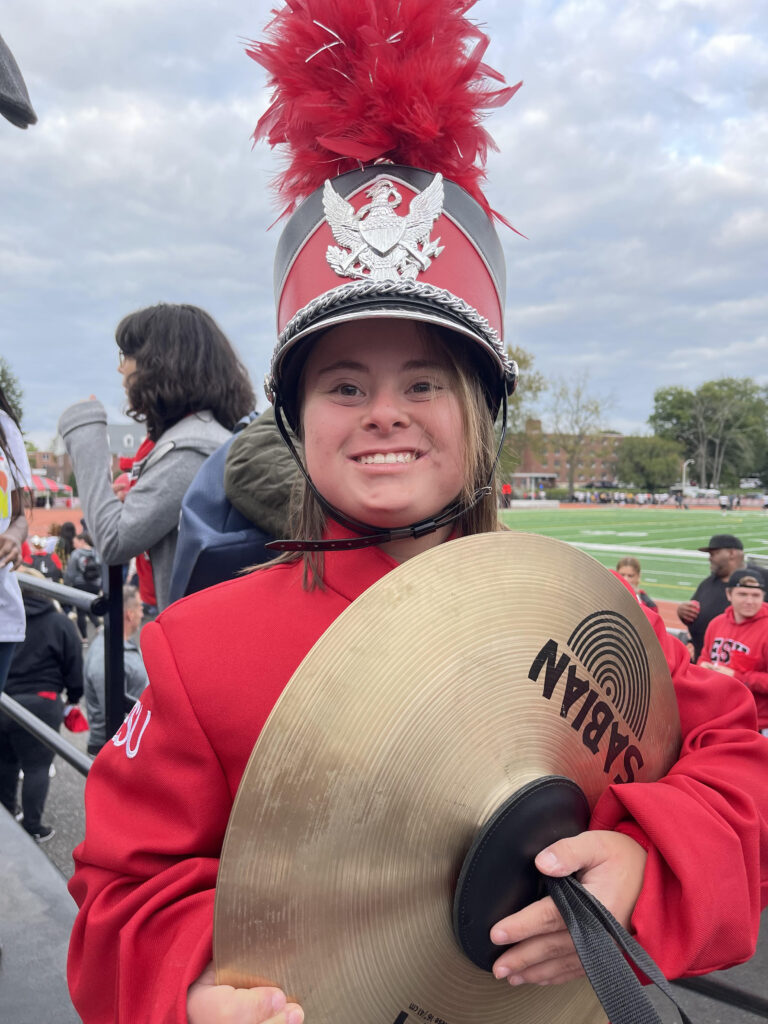 About the post author: Lizanne Magarity Pando, M.Ed is the President of St. Hubert Catholic High School for Girls. She is currently pursuing a doctorate at Cabrini University. Her daughter, Jenna, is a sophomore at East Stroudsburg University in the CILLS Integrated Services program. Jenna is a 22-year-old student with Down syndrome studying Early Childhood Development and Fitness with the career goal of becoming an Assistant Gym Teacher.